"Computer Vision for Industrial Inspection: From PCs to Embedded," a Presentation from NET GmbH
Thomas Däubler, CTO of NET New Electronic Technology GmbH, presents the "Computer Vision for Industrial Inspection: The Evolution from PCs to Embedded Solutions" tutorial at the May 2018 Embedded Vision Summit.
In this presentation, Däubler introduces current industrial inspection computer vision applications and solutions, and explores how vision solutions are evolving for this market. In recent years, a growing number of system integrators and machine builders have recognized that embedded vision systems can often overcome key shortcomings of conventional PC-based vision systems. Däubler illustrates typical embedded vision inspection systems and compares them with PC-based solutions, pointing out key advantages and limitations through several real-world examples.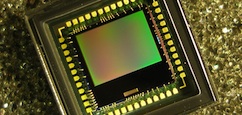 Subscribe to the Embedded Vision Insights Newsletter